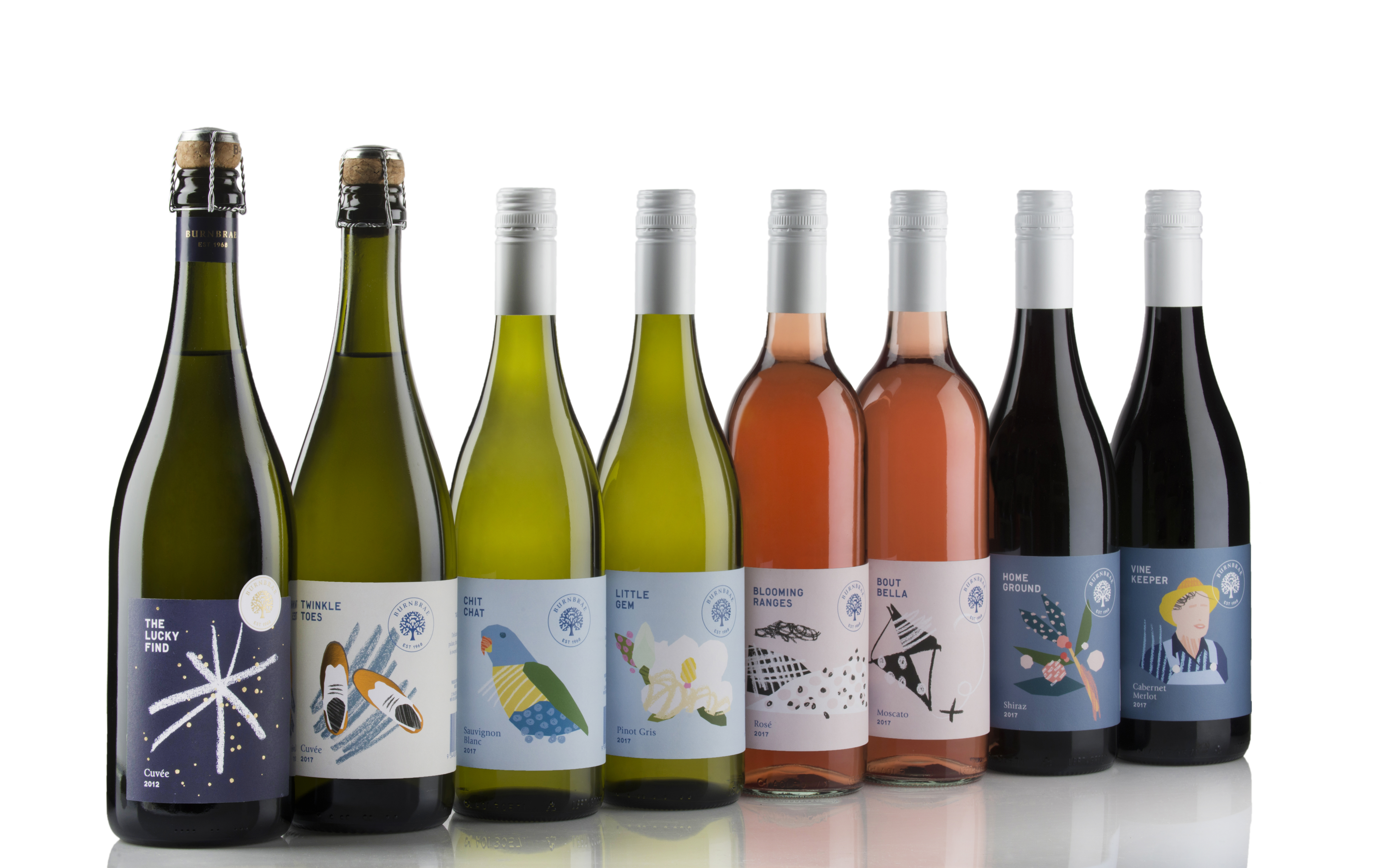 Burnbrae Wines unveils new labels for latest vintage
Mudgee-based family-run Burnbrae Wines releases its latest vintage wines with a fresh new look full of personality, just like the winery. The previously white labels have been reimagined with bright hand-crafted collages of shapes, textures, colours and stories designed by Sydney-based creative agency, The Accompany Group.
Each wine name and label is inspired by Burnbrae, its surrounds and connections to owners Trine and Andy Gay. These include the chatty local parrots, driveway lined with blooming magnolia trees, the former dance-hall-turned-cellar-door, and the awe-inspiring blazing sunsets over the nearby ranges among others.
After getting to know Trine and Andy over pizza and a bottle of wine, The Accompany Group was inspired to tell Burnbrae's stories.
"Trine and Andy are great storytellers. We came back from Mudgee with pages of anecdotes and observations about the place, the people and the products. When we began ideating, it seemed fitting that we explore the many stories we shared," says The Accompany Group founder and creative director, Linda Jukic.
Each bottle tells a story. A parrot stars on the Chit Chat sauvignon blanc, a nod to the colourful birds that chatter above the courtyard where friends enjoy wine over yarns and banter. The Home Ground shiraz includes a branch of the peppercorn tree that stands where the original winery once was and that also features in Burnbrae's logo. Gold-foiled dancing shoes reside on the Twinkle Toes cuvée as a reminder of when the Burnbrae cellar door was once a dance hall. Each label is designed like a book cover with a title, a cover illustration, the publisher's seal and a blurb, furthering the story theme that inspired the brand refresh.
The family of wines sits cohesively together with a core background colour palette, while creating a distinction between ranges with different base colours for whites, reds, rosés and cuvées. Burnbrae's white wines share a light blue background reminiscent of a clear, sunny sky; while the reds are characterised with a darker teal blue. Rosé and moscato feature a light pink label that mirrors the blush colour of the wine; while Burnbrae's premium product, The Lucky Find Cuvée, evokes the night sky with midnight blue and gold foil detailing.
The white, red, rosé and sparkling wines are now available in cute three-bottle gift packs, nifty slide-under-the-bed six packs, or by the case online and at the cellar door for delivery Australia-wide.