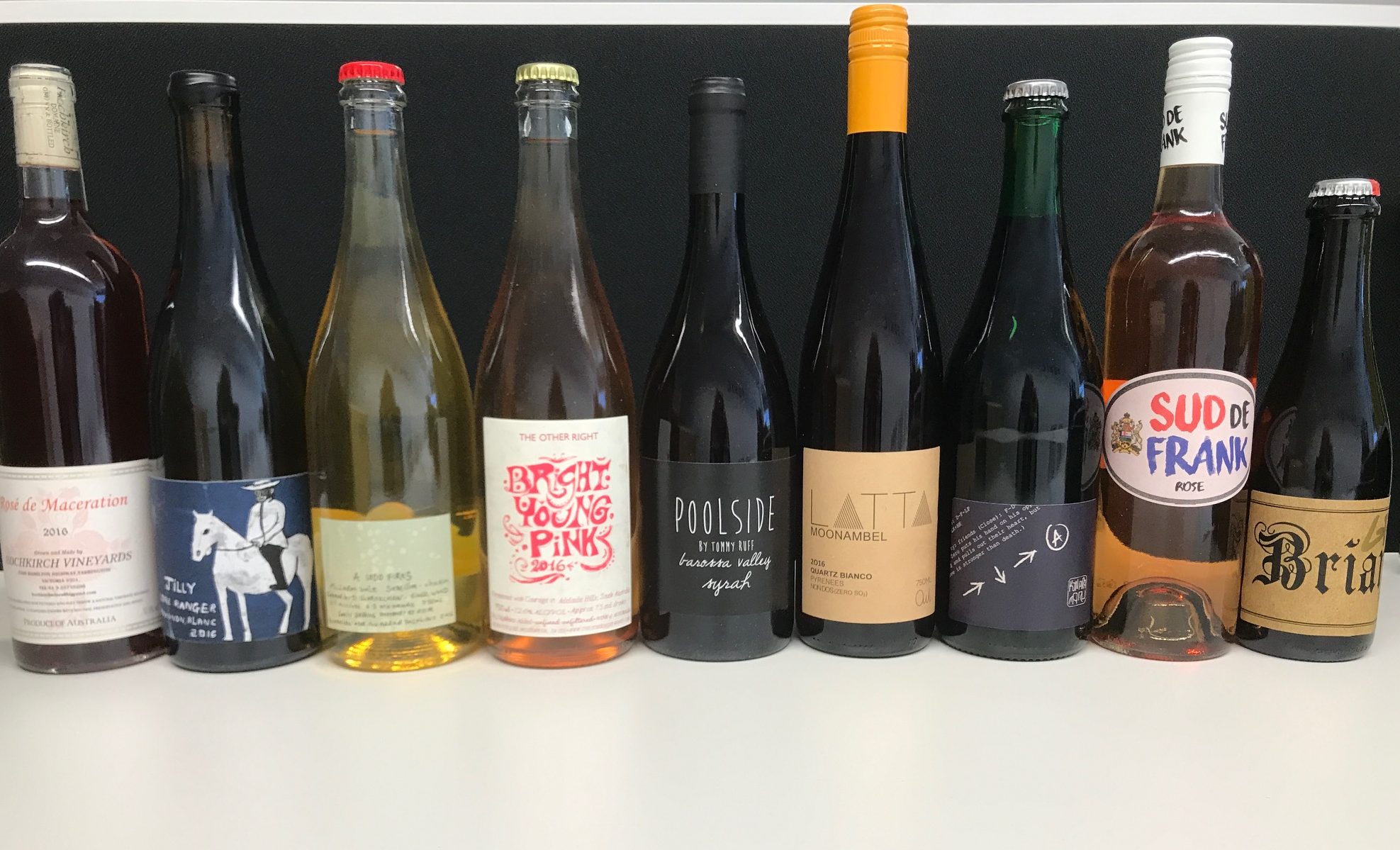 Nine wines you need to try
By Natasha McGarrell
We all secretly want to be wine wankers, right? That's why Tonic PR kicked back with drinks writer and all-round wine dude, Mike Bennie to find out his hit list of Australian wines that we should be drinking now. We're nice so we'll share with you with the full expectation that you'll bust out some wine wanker-isms at your next dinner party.
2016 The Other Right Bright Young Pink
'I feel pretty, Oh, so pretty, I feel pretty and witty and bright!' OK, so it's no West Side Story but this slightly sparkling pinot noir with a splash of chardonnay is an instant charmer. A fruity wine with notes of guava and strawberry make a smashing Sunday afternoon quaffer.
Origin: Adelaide Hills, Australia
Buy here
2016 Brian Gris
Don't be misled by the 375ml bottle – this is not a beer! This cloudy orange wine is fermented naturally in its skins and bottled with minimal sulphur and without filtering or fining. A pinot gris with berry acidity and aromas of rose petals, Campari and peach. #winning
Origin: Tamar Valley, Australia
Buy here
2016 Jauma Thousand Fires
Naturally fermented, this orange wine has a honeyed hue and if you really want to sound intelligent at your next dinner party, it's a 'textural white'. Yes, dahling that's code for a white wine that is more than fruit juice. Lightly tropical with a chenin acid finish, this is a cracker with tempura anything!
Origin: McLaren Vale, Australia
Buy here
2016 Latta Vino Quartz Bianco
Woah baby! This is one of the easiest drinking wines around. Another 'textural white' this one's scents of green apple, lime and sea spray will have you feeling like you're with everyone who is frolicking in Europe's summer and posting incessantly about it on Instagram. Oh, and reaching for a second (or third) glass.
Origin: Pyrenees, Australia
Buy here
2016 Jilly Wines Lone Ranger Sauvignon Blanc
We can hear you scream, not another sav blanc! Hell, no. This is an interesting wine with flavours of fennel, anise, green herbs, passionfruit and pineapple. Its acidity beautifully cuts through anything fried so get that family bucket of fried chicken and pour a big glass you beautiful thing you.
Origin: New England, Australia
Buy here
2016 Hochkirch Maceration Rosé
Guess what? The best rosé actually doesn't always have to be from the south of France. Gasp! This versatile Aussie rosé is perfect autumn drinking and will actually hold up with food like a wintery duck. It's fruity but not too sweet so you can basically drink more of it, right?
Origin: Tarrington, Australia
Buy here
2016 Sud de Frank Rosé
Again, not French even though it has a French name. Brain, hurting. Sud de Frank is a collaboration between Jared Dixon (Jilly Wines) and Dan Graham (Sigurd Wines) and it seems to have paid off. Pomegranate, lychee and white peach. Enough said.
Origin: Mix, Australia
Buy here
2017 Shobbrook Poolside
Did you know that syrah and shiraz grapes are basically the same but that syrah grapes usually create a lighter wine that straight shiraz? No, neither did we but we do now. This beauty is made with syrah grapes that are pressed as quickly as possible and fermented for five to six weeks before being bottled. The result is an acidic shiraz that won't weigh down a red meat or send you to sleep at the table.
Origin: Barossa Valley, Australia
Buy here
2016 Konpira Maru MK
They say three's a crowd but what about four? This is a red blend of shiraz, tempranillo, nebbiolo and semillon and it works a treat. A fresh and acidic wine with notes of sweet fruit and earthy herbs and a perfect crowd-pleaser, especially when you're trying to impress a new date.
Origin: New England, Australia
Buy here