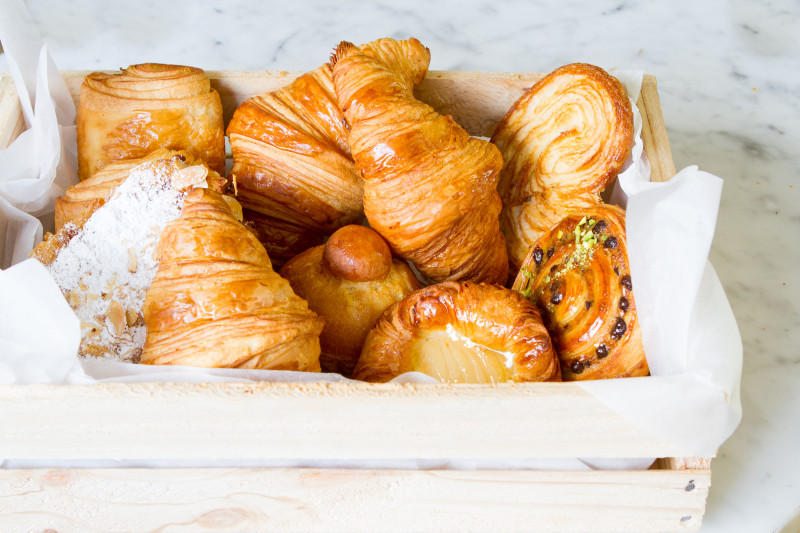 One of the World's Best French Pâtisseries opens in Waterloo
This July, La Renaissance Pâtisserie, one of the world's best French pâtisseries, is set to bring its handmade pastries, cakes, tarts, chocolates, as well as a small café lunch menu and pâtisserie classes to a new location in Waterloo.
The new venue for La Renaissance, on the corner of Young and Phillip Streets, is a destination for lovers of world-class French pâtisserie. This will be the second Sydney location for La Renaissance, which has been upholding the tradition of French patisserie in Sydney for over 40 years.
Be drawn inside the doors each morning by the aroma of dozens of buttery, flaky and crisp croissants, pain aux raisins, brioche and pain au chocolat fresh out of the ovens. Inside, you're likely to see French-trained co-owner and Master Patissier Jean-Michel Raynaud hard at work in the kitchen creating the delicious array of colourful and meticulously detailed cakes and pastries, along with his team of pastry chefs. Cherry and pistachio tarts, salted caramel macarons, warm apple turnovers and classic shortbreads are all displayed on the sophisticated marble counter.
Reynaud and his team are fastidious with detail, skilfully creating cakes with multiple layers, textures and components and using only the highest quality ingredients, including Valrhona chocolate and imported French butter. It's this attention to detail and true dedication to the art of French pâtisserie that saw Jean Michel and La Renaissance admitted to the prestigious Relais Desserts, an international pâtisserie association of the highest acclaim, last year. In doing so, Reynaud has joined the ranks of other pastry chefs such as Pierre Hermé, recently named best pastry chef in the world, and Japanese pâtissier Sadaharu Aoki. La Renaissance is the first and only pâtisserie in the Southern Hemisphere to receive this status.
The celebration cakes are as visually stunning as they are delicious. Two of the most popular are The Goya, a raspberry mousse line with layers of passionfruit cremeux, almond nougatine and sponge; and the Zulu, a decadent Valrhona chocolate mousse, chocolate salted caramel and chocolate shortbread.
In addition to its pâtisserie treats, La Renaissance will offer customers The Little Marionette roasted coffee and a variety of fresh takeaway seasonal salads and sandwiches, sausage rolls and pies, all made fresh daily on site. Already a cult favourite at the original La Renaissance location in The Rocks, the pork, fennel and bacon sausage rolls are full of flavour and made with 100% French butter puff pastry that's crisp, light, flaky, and the perfect complement to the flavours within.
For those eager to learn the craft of French pâtisserie, Master Patissier Jean-Michel will host hands-on masterclasses on creating macarons, tarts, shortbread and biscuits. The basic techniques and concepts of French pâtisserie are an integral part of each class, as echoed in Jean Michel's book The French Baker. Details will be available on the website and in-store.
Waterloo will be the second and larger location for La Renaissance, which first opened in East Roseville over 40 years ago and moved to The Rocks on Bastille Day in 1992. The stylish and welcoming Waterloo site – located in the PYD building known for luxury, quality and artistic creation – will allow the team to keep up with the increasing demand for their high quality, traditional French pâtisserie products.
About Jean-Michel Raynaud
Jean Michel Raynaud is the hands behind the sweet treats of La Renaissance patisserie. French-trained, he has worked in Michelin-starred restaurants and haute patisseries/chocolateries alike across France and has competed in global pastry competitions. After settling in Australia he specialised in the exclusive wedding cake market as head chef of Sweet Art and Planet Cake in Sydney. In 2015, Jean-Michel released his first cookbook which is filled with all the knowledge and artisanal techniques needed to master traditional French breads, cakes, pies, tarts and pastries as well as recipes for some of La Renaissance's signature items.  Jean-Michel continues to cement his position in Australia as one of the leading pastry chefs, through his teaching of staff, occasional classes to the public and also within the industry as a consultant.
About Relais Desserts
Relais Desserts has been created around the master word of "Excellence" and is the pâtisserie equivalent of receiving Michelin Stars. However, whilst Michelin Stars have independent judging and the stars are awarded, Relais Desserts is invitation only, with chefs required to be sponsored by two Relais members and assessed by their peers. Formed over 30 years ago in France, the association recognises the best in the profession of French pâtissiers. Currently there are only 80 members in the world, the majority of whom are French or French trained. Being a Relais Desserts member comes with responsibility. Members gather twice yearly to take part in conferences where they share their expertise, collaborate, and exchange ideas. The September conference is held each year in France at The National College of Advanced Training in Pâtisserie (École Nationale Supérieure de Pâtisserie), owned by Alain Ducasse in Yssingeaux. New members are admitted and demonstrate their work to the alumni, including creating a centrepiece, a dessert and often a bespoke chocolate bar.