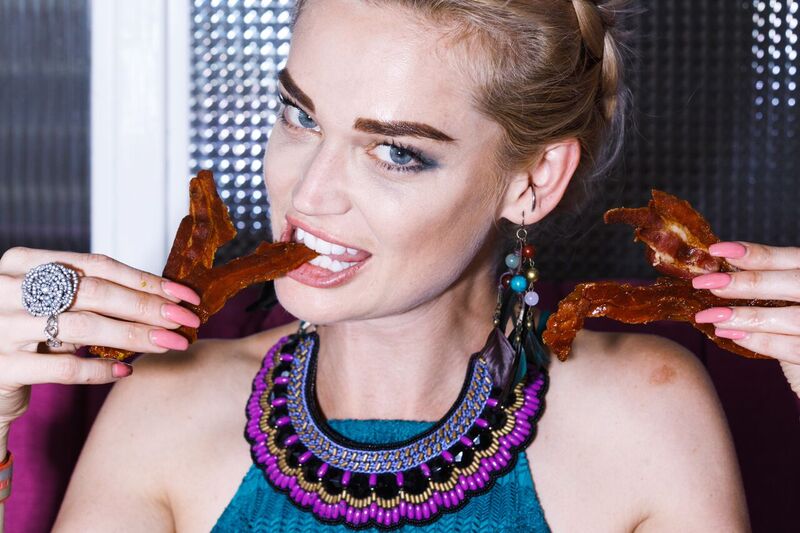 Pig out at Bacon Ooze Fest
Cuckoo Callay's annual Bacon Festival is back and better than ever with the addition of an ooze factor for the festival's fourth year. From Wednesday 4 April for 12 weeks, Cuckoo Callay Newtown and Surry Hills serve up an epic menu celebrating all things oozy and highlighting the cause for free range Australian pork.
In their usually extravagant style, Cuckoo Callay has curated a menu of seriously drool-worthy dishes. The Piggie Smalls (The Notorious P.I.G.) burger stacks three types of pork with a pork mince pattie, char-grilled chorizo and maple bacon jam, and packs a punch with Mexican flaming cheese, pork crackling and chipotle aioli. Under My Umburatta is a deep-fried, bacon-crumbed burrata and 63° egg oozing over char-grilled zucchini, kale, zaatar and olive tapenade, fennel and herbs. The I Like Pig Butts and I Cannot Lie uses Coco Pops to crumb oozing salted caramel French toast with banana and bacon ice cream, chocolate soil, maple-glazed bacon and mascarpone deserves stomach space, no matter how full you are.
"I'm excited about our new bacon tasting board this year. Streaks of triple-smoked bacon, sticky maple bacon, bourbon-fuelled double-smoked bacon and our exclusive triple-smoked air-dried bacon made especially for us by Blackforest Smokehouse hang from a miniature clothes line," explains Cuckoo Callay co-owner Ibby Moubadder. "Slather on creamy bacon aioli and sweet bacon jam dipping sauces to take it to the next level."
Cuckoo Callay adds more bacon and ooze with a medley of collaborations throughout the festival. The cafe teams up with Shortstop Donuts to create Maple Bacon Long Johns. Yeast-raised dough is dipped in a glazing of maple and brown sugar, and topped with candied maple-smoked bacon. Grab one from the takeaway windows at Cuckoo Callay Newtown and Surry Hills from Monday 9 to Sunday 22 April. If you're looking for love and wish that your favourite food could be the man or woman of your dreams, keep your eye out for Mr. and Miss Bacon's Tinder profiles during the first four weeks of the festival. Swipe right for a chance to win 50% off your Bacon Ooze Fest order.
Later in the festival, Cuckoo Callay creates the world's biggest Bacon MacDaddy for a lucky group of mates to win. The café's signature dish – a toasted croissant topped with triple-smoked crispy bacon, 63° egg, bacon mac and cheese, tomato relish and fried shallots – gets the oversize treatment thanks to The Grounds of Alexandria's giant 45cm croissant. Feast your eyes on the enormous dish at Cuckoo Callay Surry Hills on Saturday 26 May. More collaborations will be announced during the festival.
Cuckoo Callay hosts the Bacon Ooze Fest to raise awareness of free range, ethically and sustainably produced Australian pork.
"On one visit to Blackforest Smokehouse in Marrickville, we got chatting to the owner, Richard, who told us about the decline in Australian pig farmers and the damage to the industry due to people buying cheap imported bacon," says co-owner Eleanor Harris. "We decided to do something about it!"
Cuckoo Callay's Bacon Ooze Festival runs for 12 weeks at Newtown and Surry Hills. Come and pig out on oozy bacon dishes from Wednesday 4 April to Tuesday 26 June. Follow on social for all the oozy details.