Sake and Suits pop-up at Little Fish Bar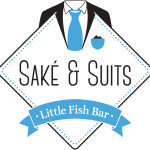 Little Fish Bar, one of Sydney's best waterfront spots, will celebrate spring with a Sake and Suits pop-up from 19 October – 15 November.
Dive into the crisp, delicate flavours of the Japanese spirits on offer, hand-selected by Flying Fish Sommelier, Paolo Saccone. Whether you're a sake aficionado, a total novice or in the mood to try something a little different, there's a sake for everyone. And, if you can't decide on just one, the pop-up bar will serve hand-selected Sake Flights, allowing you to try three sakes with a matched canapé.
The Sake and Suits flight costs $45 and includes:
Uehara Shuzo 'Soma No tengu' (Cloudy Sake) with Grilled New Zealand scampi, Foie gras and macadamia butter.
Mutemuka Shuzõ 'Mutemuka' with Torched Wagyu beef nigiri and mushroom.
Kakeman Shuzo 'Genmaishu' (Brown Rice Sake) with Miso caramel ice-cream and confit pineapple.
Flying Fish Executive Chef Stephen Seckold, alongside Sushi & Sashimi Chef Taiji Mita have created a special menu of sake-friendly snacks to pair with your spirits.
The Japanese have a saying: "Nihonshu wa ryori wo erabanai" which basically means "sake does not get into fights with food". Stephen and Taiji's pop-up menu perfectly complements the sakes on offer, without overpowering one another.
Perched at the end of Jones Bay Wharf alongside Flying Fish restaurant in Pyrmont, Little Fish is the perfect spot for after-work drinks or a relaxed Sunday session with friends.
So kick back on the wharf, soak up the stellar harbour view and enjoy those sundrenched spring nights with some sake and sashimi.
Five things you didn't know about sake:
Sparkling sake: the Japanese originally brewed sparkling sake to allow Formula Nippon race car drivers to spray at the winner's podium.
Have your sake and drink it too: while the Ochoko (small ceramic cup) is the most traditional way to serve sake in, long-stemmed wine glasses and sherry glasses can enhance the spirit's quality.
Some like it hot: the label on the back of a sake bottle usually indicates the recommended temperate that particular sake should be served.
The (sake) glass is always half full: contrary to popular belief, pouring your own sake is not considered bad luck.
Choose your words: you want the good stuff, so look for the terms "junmai", "junmai gingo" or "junmai daiginjo" on the label (or sake list). The latter represents the very best of the best in terms of rice quality.
Little Fish Sake and Suits pop-up bar
19 October – 15 November
Jones Bay Wharf, 19-21 Pirrama Road, Pyrmont
www.flyingfish.com.au/little-fish-bar
Opening hours
Monday: 5pm – 10.30pm
Tuesday – Saturday: 12 noon – 9.30pm
Sunday: 12 noon- 4pm