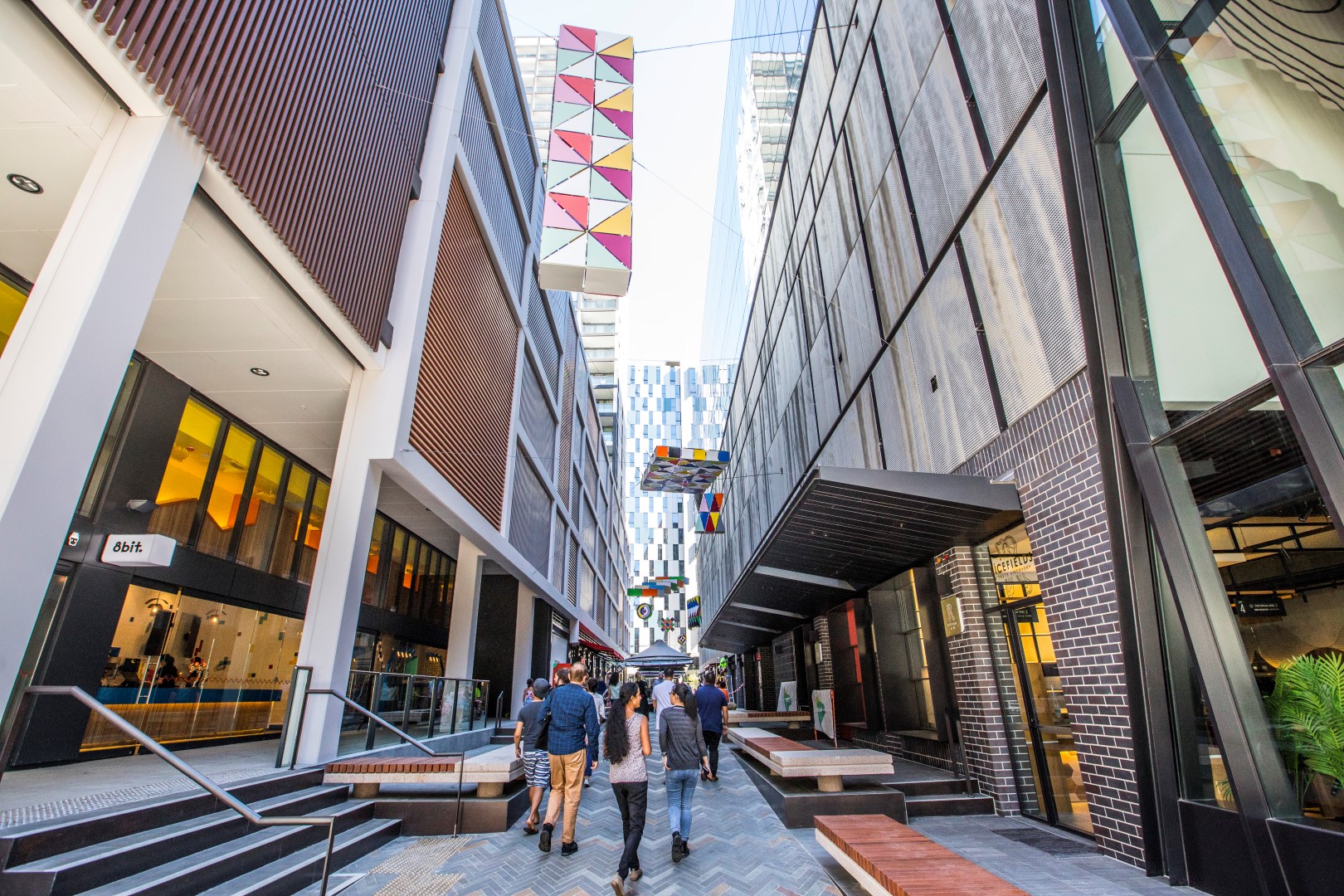 Sydney's largest little laneway, Steam Mill Lane, opens its doors
Steam Mill Lane, Sydney's largest little laneway, opens at Darling Square this week with its first wave of food, drink and lifestyle retailers. Loud, lively and larger than life, this little laneway punches above its weight with some of Sydney's best food, drink, and retail woven into its intimate urban setting. This is the first laneway open in the Darling Square precinct, which is being brought to life in stages over the next 18 months.
Steam Mill Lane caters for an array of needs: pick up a morning coffee, unwind over a long lunch, shop for a unique gift, cure a hangover with some takeaway or get a late night noodle (or whisky) fix. All cravings are covered with a number of flavours for different tastebuds.
Melbourne's favourite 8bit brings its video-game inspired burgers, milkshakes and fries to Sydney for the first time. Also open this week, is cult fried chicken and natural wine combo Belles Hot Chicken; Surry Hills' The Sandwich Shop; Japanese café MATCHA-YA; Sichuan rice-based eatery, Ricefields; bubble tea by Gong Cha; and Italian café, bar and restaurant Il Bacio brings authentic pizza and pasta. Toby's Estate was the first retailer to open in the precinct in July last year.
A small collection of lifestyle stores also open. Visitors can discover fresh threads, shoes and accessories at streetwear boutique Pict; style up specs at sustainable optometrist Dresden Optics; shakeup an image with the grooming experts at Men's Culture Barber; or create customised luggage at clever travel and lifestyle designer ALIFEHAUS.
Joining this new line up in May is BangBang, transporting guests to the back streets of Tokyo's Shinjuku district. The neon-lit Japanese whisky and craft beer bar serves ramen and curry, and if you like to sing there's a private Kabukicho-style karaoke dining room. There's also authentic pork gyros vendor Gyradiko who fills pita rolls with slices of juicy pork, just like in Greece, carved straight off the spit; sashimi salad bowls by Fishbowl; Sydney's favourite bánh mì vendor, Marrickville Pork Roll; and Darlinghurst's Edition Coffee Roasters.
Steam Mill Lane is home to a permanent catenary light installation. Artist Peta Kruger, from JamFactory in Adelaide, designed eight artwork pieces that have been placed at varied intervals along the laneway. Kruger drew inspiration from nightlife cityscapes, lanterns, abstract painting and previous artworks. Each piece will has the appearance of abstract signage during the day, and neon lights at night bringing to life a true laneway vibe.
Just a seven minute walk from the CBD and the university scene, Steam Mill Lane is located off Tumbalong Boulevard which connects from Darling Harbour all the way to Central, via the Goods Line.
Steam Mill Lane retailers:
Toby's Estate (opened July 2017)

Located in the lobby of the new Commonwealth Bank of Australia offices, Toby's brings its 'Espresso Bar' concept to Darling Square with a state-of-the-art mavam machine. Chef Joseph Assanti dishes up a range of hot and cold breakfast and lunch options including fresh seasonal salads, soups, stews, and rice and pasta dishes. There's also pastries, cakes and muffins from the Bread and Butter Project.

Ricefields (now open)

From the team behind Two Sticks, Bun Gallery and Kobe Wagyu Yakiniku, Ricefields is a Sichuan rice-based eatery created specifically for Darling Square. Ricefields puts a casual and unique spin on authentic Sichuan food. It maintains the bold flavours of the cuisine and offers dishes featuring ingredients preserved through pickling, salting and drying.

Gyradiko (opening May 2018)

Gyradiko Bexley lands at Darling Square. As per Greek tradition, the eatery specialises in authentic pork gyros – you won't find lamb, beef, hummus or tabouleh here. All ingredients, from meat to dips, are made from scratch and prepared daily. The pita roll is ideal for takeaway but if you fancy eating in there'll be a few tables.

MATCHA-YA (now open)

MATCHA-YA brews authentic Japanese green tea using real matcha powder sourced from Japan. Along with tea, there's also a range of matcha-infused menu items including matcha lattes, matcha fondue, matcha parfait and matcha soft serve. A range of savoury lunch and dinner dishes including cup sushi are also on offer. MATCHA-YA is from the team behind Oiden Bowl Bar, Mappen, Dera-Uma and Rengaya in Sydney.

Marrickville Pork Roll (opening May 2018)

Already a huge hit in its namesake suburb, Marrickville Pork Roll will have visitors lining up for a taste of its famous Vietnamese bánh mì. They are famous for a reason. With more than 10 ingredients to choose from for that crunchy bread roll, you can get any variation you like on roast pork, cold pork, chicken, tuna, paté, mayonnaise, fresh and pickled vegetables, all with a good kick of chilli.

The Sandwich Shop (now open)

Like its sister shop in Surry Hills, The Sandwich Shop Darling Square is all about great sandwiches made with high quality ingredients. Choose from a menu of sandwiches made with organic sourdough bread, house made sauces and meats roasted in-store. Sandwiches aren't the only thing on the menu however, with breakfast, wraps, salads, coffee and organic sodas also on offer.

Belles Hot Chicken (now open)

Morgan McGlone of Belles Hot Chicken is onto a good thing and knows that fried chicken and natural wines are a winning combo, create a fiery Nashville-style eatery. Think fried chicken tenders, mac and cheese, hot fish sliders and chicken ribs in peach BBQ sauce. With stores already established in Melbourne and Sydney, this is the seventh venue for Belles.

8Bit (now open)

Melbourne's 8bit brings its video-game inspired burgers, milkshakes and fries to Sydney for the first time at Darling Square. 8bit is an American-style diner that takes its inspiration from everyone's favourite video games from the 80s and 90s. Craft beers are also on offer to wash down chef Shayne McCallum's dangerously delicious burgers.

Fishbowl (opening May 2018)

Fishbowl rocks it LA style while using modern Japanese ingredients to create sashimi salad bowls (which is basically a deconstructed sushi roll, FYI). The five-step build-your-own-bowl makes ordering simple. Pick a base, add a protein, some Japanese-style vegetables, toss in a dressing, and then top it off with something crunchy.

Dresden Optics (now open)

Dresden Optics create sunglasses and prescription glasses within 20 minutes. Dresden's signature ultra-durable, lightweight frames are made with 100% recycled and recyclable materials. They come in four different sizes and a riot of colour combinations. A 10-year warranty means that the Australian-made and designed frames are built to last. Sustainability and innovation are two key drivers for the Dresden team, who have experimented with milk bottle lids, beer keg caps and plastic rubbish washed up on Byron Bay's shores to create their frames. Dresden also offers contact lenses and full optometry services.

ALIFEHAUS (now open)

ALIFEHAUS offers clever travel and lifestyle products that simplify life in transit. Customise your DOT-DROPS suitcase, organise your home with Qualy and Yamazaki's Japanese homewares, pick up a unique gift or grab a yuza tea and sandwich at the 15-seater café. ALIFEHAUS is from the team behind ALIFEDESIGN, with stores in Sydney's QVB, Japan and Korea.

Pict (now open)

Pict is a relatively new player in the Sydney retail scene having launched its first space in June 2017. Through a careful edit of leading streetwear from around the world, Pict has quickly developed a loyal following. The new, larger space at Darling Square will allow them to continue to build on their vision of bringing something fresh to the streetwear and fashion landscape in Sydney. The Pict brand list includes the likes of Champion Europe, Stampd, Daily Paper, Carhartt, Bleu de Paname, Maharishi, Alpha Industries, I Love Ugly, Dickies, Born x Raised, Veja and Medicom BE@RBRICK.

Men's Culture Barber (now open)

Men's Culture is a one-stop-shop for men's grooming. The team behind Malkonyan Hair in Alexandria and Zetland offers a full barber service including men's haircuts, hot towel shaves, facials and beard grooming. Pick up men's grooming accessories including razors, hair waxes, body wash and moisturisers from the boutique area.

BangBang (opening May 2018)

Be transported to the back streets of Tokyo's Shinjuku district at BangBang. Expect a neon-lit Kabuki-cho-styled Japanese whisky and craft beer bar, a side street ramen and curry house and a sound proof private karaoke dining room. Ex-Nobu Tokyo chef Kokubo Yuji brings a carefully crafted Japanese menu to the kitchen.

Edition Coffee Roasters (opening May 2018)

Edition Coffee Roasters owner Daniel Jackson selects single origin/estate green beans and roasts them for batch brew, pour-over, Japanese drip and cold brew. Chef Jack New combines Nordic and Japanese cuisines to create the menu of seasonal breakfast and lunch dishes. A selection of teas are also available.

Gong Cha (now open)

Gong Cha brings bubble tea to its 47th Australian store at Darling Square. Gong Cha brews its tea fresh daily to create a range of signature milk foam teas; milk and health teas; yoghurt drinks; and smoothies. Add some fun with a mix of toppings including aloe vera, pearls, pudding and coconut jelly.

Il Bacio (now open)

Il Bacio is a modern Italian restaurant, bar and café serving breakfast, lunch and dinner. Breakfast sees a menu of pastries, breakfast bowls, paninis and other breakfast classics with an Italian twist. For lunch and dinner, expect antipasti, salads, pizzas and fresh pasta handmade daily. On the sweeter side, indulge in Italian dessert favourites including tiramisu, cannoli and gelato.

Darling Square Pharmacy (now open)

Darling Square Pharmacy offers a comprehensive range of over-the-counter and prescription medicines, as well as a wide range of health-related services such as vaccinations, BMI checks, wheelchair hire, and much more.