By Steph Bercich
Having just got back from European adventures, I want to share with you a guide to eating, drinking and playing your way through Portugal's colourful capital city, Lisbon.
Day one
Tip: hire a car
9am: grab a coffee from Pois Cafe and drive 45 mins south to Praia da Comporta, the picturesque beach on Lisbon's coast.
Order an acai bowl from the beach canteen, or if you're feeling a little adventurous, a morning mojito. It's midday somewhere in the world, right? The perfect start to a day in the sun.
12pm: time for lunch so stroll to beachside restaurant, Ilha do Arroz. Don't worry about dressing up, the standard attire is swimmers, sarongs and sandy feet.
3pm: now you've got a full stomach, hit the beachside bar for an afternoon aperitif. Pick your poison – juices, cocktails, acai smoothies, and spirits are all on offer.
5pm: head back to the hotel and freshen up – a night on the town is awaiting.
7pm: catch the tram to where the nightlife is at its prime, the quirky suburb of Barrio Alto. This suburb is filled with colourful narrow lanes and alleys, boasting an eclectic and multicultural atmosphere of restaurants, cafes and expensive shops. At night, the city comes alive and the bars and clubs are where it's at.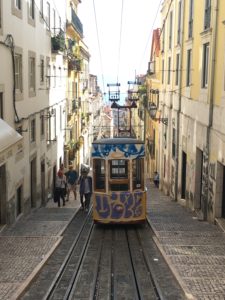 Whether you're a pharmacy professional, or just a general appreciator of funky bars, Museu da Farmacia is one to visit. Don't be fooled into thinking it's just a museum, step inside the gates and you're transported into an oasis of pharmacy-filled fun. Sip on a medicine-themed cocktail on the front lawn as you watch the sun go down over Lisbon city.
10pm: no going home yet. Bar hop through Barrio Alto and end up at Pensao Amor. Brothel (way back when) turned club, this crazy five-level establishment plays all the classic hits you know and love until the early hours of the morning. Disclaimer: be prepared to wait in queue but it's well worth it.
Day two
10am: yes, 10am. You'll want a little sleep in after last night's extravaganza. Today is for exploring, so put on your best walking shoes. Head to Fabrica Coffee Roasters for a cheap and decent breakfast of anything from croissants to eggs on toast.
12pm: catch the tram or drive west to the cute town of Belem and check out Lisbon's famous monuments:
Jeronimos Monastery, one of the largest monasteries in Lisbon
Belem Tower for an epic view of Lisbon. Tip: the best view is from the left side of the monument
Admire the incredible stone work of Padrao dos Descobrimentos
2pm: time for an afternoon treat, you've deserved it. Pasteis de Belem is known to have the most delicious, flaky Portuguese tarts in town. You may have to wait in line but you'll thank yourself for it! Tip: if you don't want to wait, dine inside for table service. You're almost always guaranteed to get a table straight away.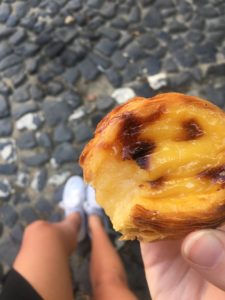 3pm: take a 40-minute drive north-west to Sintra and check out picturesque Pena Palace. Even if you just go for the Insta 😊. This masterpiece of 19th-century Romantic architecture has a unique view of the town and ocean. The palace grounds are gorgeous and full of lush corners. Go exploring in all the little nooks and make sure your phone or camera is charged – you'll want to take A LOT of photos. Selfie stick could even come along for this one too.
If you have more time in Lisbon, you could spend a whole day exploring Sintra and its surrounds. Another great palace to visit is the Palace of Sintra.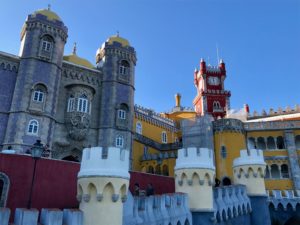 6pm: head on back to the hotel and un-crinkle the 'nice' travelling outfit and get ready to try the most delicious meal of your whole trip at A Cervecheria. You can't book, so get here early – wait times can be up to three hours.
Don't fret though, the restaurant's adjoining street bar has you sorted. Find a spot on the street and cool down with a gin and tonic or pisco sour until your table is ready, perfect on a warm summer's night.
When you're seated (and no doubt feeling a little tipsy), it's time to order the ceviche – it is a Cerveceria after all. The salmon ceviche is served with pitaya, mango, mashed carrots, tiger milk and orange. A must-try!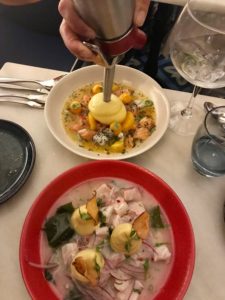 You can't go wrong with finishing the night off with a dulche de leche dessert. And a night cap, of course.
Boa Noite!