As Sydney prepares for its annual Vivid Sydney festival, Barangaroo shapes up to be the dining destination of choice for visitors. The precinct offers a variety of food options every evening throughout the festival (Friday 24 May – Saturday 15 June), as well as giant wandering puppets, illuminated fairy floss and an array of harbour-side restaurants giving visitors a front row seat to the Vivid Sydney lights.
As the third year that Vivid Sydney lights up Barangaroo, many of its eateries extend their trading hours providing harbour side entertainment so visitors can choose from more than 40 restaurants, bars and cafes as they take in the lights of the festival. Each night during Vivid Sydney, Exchange Place is transformed into a wondrous Winter Camp inspired by the changing seasons.
Take a seat on Barangaroo's waterfront and immerse yourself in a sea of colour. The six-metre tall puppet Marri Dyin, meaning Great Woman in Sydney local language, accompanied by a school of illuminated fish puppeteered by local students roams along Wulugul Walk Thursdays to Sunday evenings from 6 – 9pm.
Colour-changing tea, galaxy smores and dining in the dark are amongst the large selection of Vivid Sydney-inspired food, drinks and activities for visitors exploring the lights at Barangaroo.
love.fish
love. fish share three Vivid Sydney inspired Chandon cocktails including golden wattle, a refreshing Chandon blanc de blanc, marionette apricot brandy, and castanga bianco, a cucumber and cardamom mix.
Untied
Taking inspiration from Stanley Kubrick's 2001: A Space Odyssey, Untied serves up vibrant galaxy marshmallow 'smore'. Wash it down with a 'will I dream?' charcoal coloured cocktail with stunning edible flowers.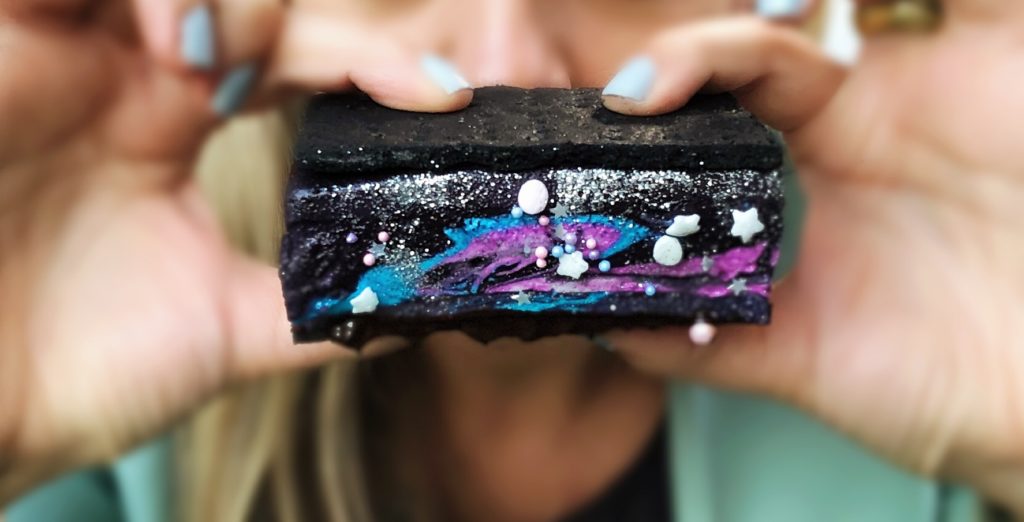 12- Micron
At 12-Micron, art, food and champagne lovers unite! Globally renowned French Champagne house Perrier-Jouët collaborates with one of Barangaroo's top restaurants to deliver an immersive and multi-sensory culinary experience throughout Vivid. 12-Micron's private dining room and bar is transformed from 24 May – 15 June into a light exhibition where a 'dining in the dark' series artfully combines gastronomy, music, art and light.
Butcher's Block
Butchers Block serve a set menu for Vivid Sydney that is sure to delight both your eyes and your palate. If brightly coloured dishes are your choice, head here for dishes such as beetroot cured trout and crumbed mozzarella as well as calamari and crispy kale with black garlic aioli and zesty lime.
Phomo
Phomo illuminates the waterfront with bright palm trees and a Vivid Sydney inspired coconut mojito lit up from the glass. Rainbow fried rice is served every night to soak up the cocktails and celebrate the festival.
Banksii
Banksii return with an illuminated fairy floss and spritz cart. This year there will be three new cocktails to try including a Riserva Sangria, an aromatic Martini and the Banksii Blue.
The Rabbit Hole
The Rabbit Hole serve a Vivid Sydney butterfly pea flower tea. With just a squeeze of lemon, this tea will surprise and delight, changing colour from blue to purple to pink.
Lotus
Lotus serve up a Vivid Sydney inspired menu with vegetarian goddess and seafood rainbow dumplings and 'Bright Surprise' for dessert made from a cherry mousse and chocolate sponge.
Vivid Sydney lights up Barangaroo from 6 – 11pm every evening from Friday 25 May – Saturday 16 June. The artistic collaboration brings together the talents of Erth Visual & Physical Inc., Jacob Nash, Mandylights and James Brown.
How to get to Barangaroo
Barangaroo can be accessed from Wynyard Station via Wynyard Walk, the Barangaroo ferry stop or a short walk from King Street Wharf and Darling Harbour ferry stops.
For further details of Vivid Sydney-inspired food and beverage menus available exclusively at Barangaroo, visit www.thestreetsofbarangaroo.com.
About Vivid Sydney: Vivid Sydney is the largest festival of light, music and ideas in the Southern Hemisphere. Celebrating its 11th anniversary in 2019, Vivid Sydney is continually setting the benchmark for world class events, creativity and innovation. It transforms the harbour city into a colourful creative canvas from 24 May to 15 June 2019. Vivid features spectacular largescale light installations and projections; contemporary and cutting-edge music performances and collaborations; public talks by renowned thought leaders, industry seminars, conferences and creativity workshops, all celebrating Sydney's place as the creative industries hub of the Asia-Pacific. Vivid Sydney is owned, managed and produced by Destination NSW, the NSW Government's tourism and major events agency, and in 2018 attracted 2.25 million attendees. For more information visit vividsydney.com