Balmoral's Bathers' Pavilion re-opens on 4 October after a significant transformation as it prepares for another 20 years at its superb beachfront location.
The grand dame of the north shore plans to deliver the best of coastal dining in Australia through several new concepts, ranging from beach snacks right through to fine dining, and with an exciting new line-up of talent both in the kitchen and front of house.
Co-owner Serge Dansereau is joined in the fine dining restaurant kitchen by head chef Cameron Johnston, of St Claude's and Jonah's, who returns to Bathers' after four years. In Bathers' Bistro, Charles Woodward (Cottage Point Inn, Daylesford's Lakehouse Restaurant, Launceston Place, Restaurant Marcus Wearing) and Peter Gong (prior 12-year stint at Catalina and Bel Mondo) are co-head chefs. Desserts are under the guidance of Kumiko Endo (Attica, Tetsuya's, Fujisaki), head pastry chef. Front of house, ACME and Bar Brose Cam Fairbairn delivers his award-winning charm as GM of service and Jess Mead (ACME, The Bridge Room) is restaurant manager.
New interiors and floorplan create a series of spaces that unfold from the casual to more formal. Jewels inside the heritage building are the fine dining restaurant and adjoining private dining room, The Good Room, which flow through to a new Chef's Table for 12. This is a unique Bather's experience with Dansereau creating a bespoke menu on the day paired with wine by the sommelier. There's a 350-strong wine list and water views from every seat.
Serge Densereau, co-owner of Bathers' Pavilion, comments, "Cameron and I started from scratch crafting an entirely new menu for the Restaurant that is elegant and unfussy and what you want to enjoy while looking out to that beautiful Balmoral water. It's what we like to call the very best of coastal dining in Australia. This is an incredible line up of talent under one roof and we're all so driven to deliver an exceptional Australian dining experience at Bathers' Pavilion, whether dining casual or formal."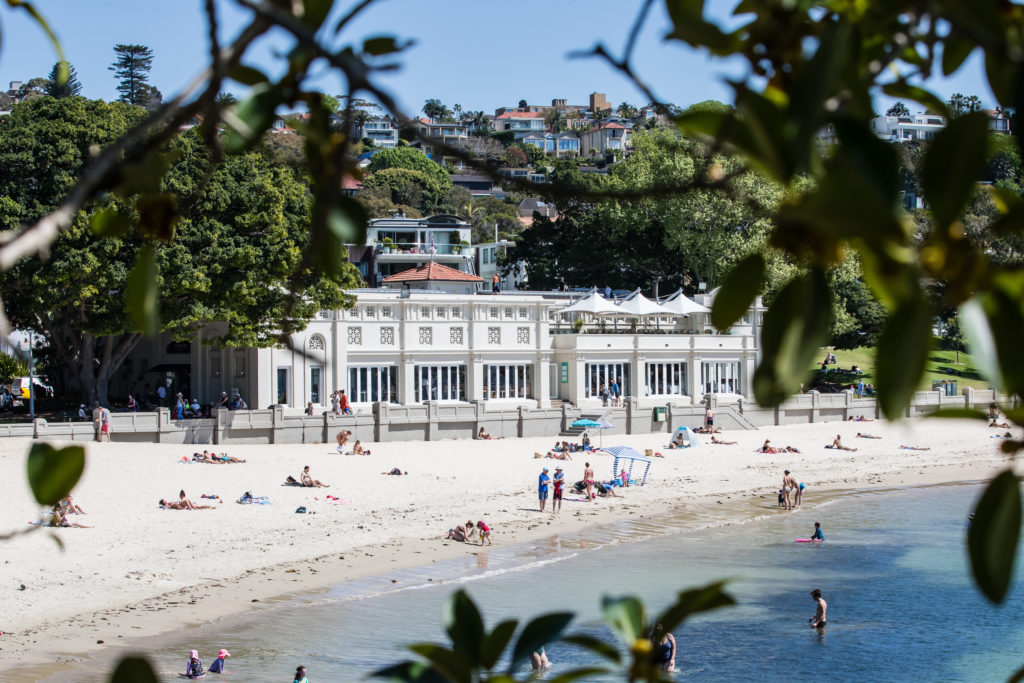 The restaurant spills into a new lounge and bar with 25 wines by the glass, a 20-strong cocktail list with five non-alcoholic cocktails in partnership with Lyle's, and a snacks menu that includes Ortiz Spanish anchovy focaccia fingers and Emmenthal cheese gougères. Full restaurant dining is available in the lounge if you find yourself settled in.
The former café has grown up into Bathers' Bistro. Created for breakfast catch ups, long lunches, and family dinners with mussels, parfait, and riesling-cured salmon alongside steak and chips, whole roast chicken and gourmet pizzas.
For the first time, one of Bather's best kept secrets, the incredible panoramic first floor "Louis Roederer Terrace" opens to the public on Sundays for lunch. Expect Champagne, chilled Gulf prawns, steak frites, and amazing people watching along the Balmoral waterfront. This adjoins the reinvigorated events and functions space which remains one of Sydney's favourite wedding and events venues for up to 170 guests by the water.
The expanded Kiosk at Bathers' now offers takeaway beach picnic hampers, artisan ice pops, fish and chips, as well as Bathers' Pavilion merchandise. The adjoining Sunroom is the perfect respite for sandy feet and wet bums to catch some shade and transforms into a casual bistro private dining space.[
Luchetti Krelle's work on the interiors remains sympathetic to the building's 1920s heritage and Mediterranean charm. Its coastal location is celebrated with pastel blue and white stripes and sailboat walnut detailing. Custom and designer furniture pieces are carefully curated amongst a selection of significant contemporary Australian artworks to retain the grand home feel. The upstairs gallery remains open to the public with a revolving series of artworks from local and renowned artists, kicking off with an exhibition by Kerry Dawson and Chris Meredith from October.
Bathers' Pavilion
4 The Esplanade, Mosman
Opening hours B L D Mon-Sun