In Darling Harbour during Vivid Sydney
Darling Square will light up taste buds during Vivid Sydney with an installation by Motti & Smith and Belle Laide Events that will blur the lines between food, art and architecture. For 23 nights – from Friday 24 May to Saturday 15 June – Darling Square will be home to Blacklight, an illuminated and multisensory dessert bar led by Gelato Messina.
Who's involved?
The ultraviolet dessert bar, located in a black cube, features collaborations with some of Sydney's food and beverage heavyweights opening soon at Darling Square. Messina, DOPA, Edition Coffee Roasters and Bubble Nini will create a rotating menu of delectable glow-in-the-dark desserts – with four available each night during Vivid Sydney.
The gelato giant is pulling out all the stops – their 'Dr Evil's Magic Mushroom cake' has had a luminescent makeover and will be served in a single serve for the duration of the event. They'll also be dishing up a three-layer dulce de leche gelato cake 'Dulce-de-lighted' with milk sponge and cream topped with glow-in-the-dark warm strawberry and roasted cinnamon anglaise.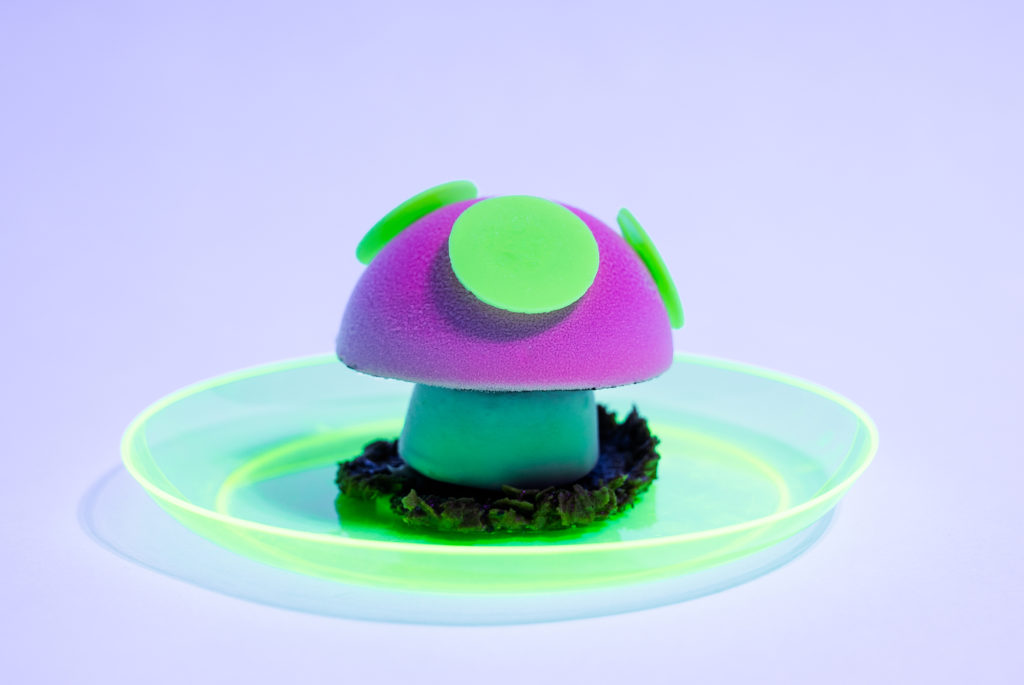 Bubble Nini's glowing bubble tea 'The Sun and the Moon' uses Messina's own jersey milk infused with Taiwanese Sun Moon Lake black tea, handmade glow-in-the-dark strawberry pearls made daily by Bubble Nini in-house, and herbal jellies. Their second creation 'It Takes Two to Mango' is an infusion of jasmine green tea with fresh orange, passionfruit, apple, coconut jelly, glow-in-the-dark mango pearls finished with Messina's mango sorbet.
Edition Coffee Roasters brings their 'Miso Hungry' gelato sandwich to the table – with Messina coffee gelato and chewy miso caramel sandwiched between miso dark choc cookies and dipped in glow-in-the-dark chocolate. They will also be doing their take on a warm mocha.
Week 1 | 24 May – 2 June
Gelato Messina and Bubble Nini
Week 2 | 3-9 June
Gelato Messina and Edition Coffee Roasters
Week 3 | 10-15 June
Gelato Messina and DOPA
Siân Bishop, Brand & Marketing Manager at Messina comments, "Developing an edible glow in the dark dessert has been a fun project and has given us the chance to collaborate with our soon to be neighbours in Darling Square. Our famous Dr Evil's Magic Mushroom gelato cake has had neon makeover for the event, and there will be new desserts and collaborative products introduced each week to satisfy both your eyes and your stomachs."
Neil Arckless, Lendlease Head of Development NSW adds, "We're excited for the community and visitors to experience Vivid Sydney at Darling Square, and to give them a taste of what's coming to the precinct."
Lighting up Darling Square, the cube features colour-changing panels, creating the kind of attraction synonymous with Vivid Sydney. Inside the cube, 23-year-old Brisbane-based artist Leans adds vibrancy with a multi-dimensional artwork displayed throughout the three-week pop-up.
If you've got a sweet tooth, this is your chance to enjoy Vivid Sydney and have a glowing experience.