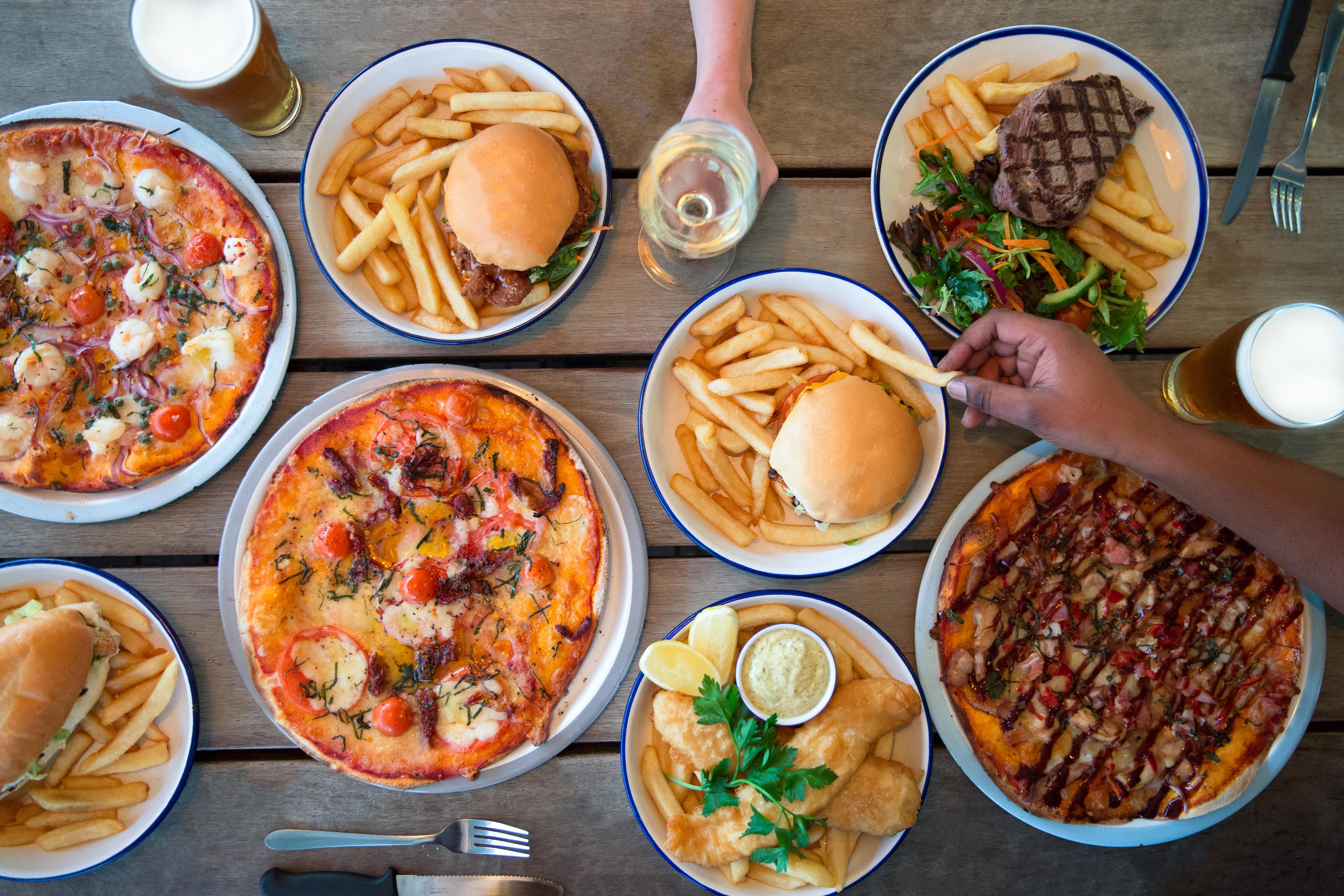 Father's Day is fast approaching, so team Tonic have compiled a list of what's happening at our venues!
Anason, Barangaroo
Chef Somer Sivrioglu creates a special kebab feast for dad this Father's Day with a set lunch menu at Anason. The menu includes a range of shared cold and hot mezes; lavash bread with zahter butter; smoked eggplant, tahini and pistachio; spiced lamb findik lahmacun, and sumac and red onion salad; followed by dishes from the charcoal including minced lamb Adana kebab, lavash and sumac salad; chicken skewers with warm tomato, shallots and pepper ezme. Finish on a sweet note with a chocolate and hazelnut baklava with semolina cream. Keep the kids occupied with the $25 menu, which includes fairy floss ice cream.
Price: $85pp for the Kebab Feast
Available: L 11:30am-11pm, dinner as usual
Bookings: (02) 9188 1581
Website: anason.com.au
Address: 5/23 Barangaroo Avenue, Barangaroo
Efendy, Balmain
Celebrate Father's Day at the launch of the charcoal BBQ, traditional wood fired oven and charcoal grill in the courtyard at Efendy, Balmain. Chef Somer Sivrioglu serves up a four-course set menu, including woodfired lavash with Efendy dips, spicy lamb lahmacun followed by a kebab board with Adana kebab, lamb fillet and charcoal vegetables. Finish with the traditional Turkish mess of merengue and berries.
Price: $79pp for a four-course set menu
Available: L 12pm-3pm
Bookings: (02) 9810 5466
Website: efendy.com.au
Address: 79 Elliott Street, Balmain
Manly Wharf Hotel, Manly
This Father's Day soak up the sun with a view at Manly Wharf Hotel. Dads are treated to a free beer with any main meal purchased. Choose from the philly cheese steak sandwich; Bannockburn free range rotisserie chicken; and the seafood medley, to name a few. Sweeten the deal with the mini doughnuts served with peanut butter ice cream, raspberry gel and honeycomb. Dads flex those muscles because the strongman game on the jetty returns, there are prizes to be won if the hammer reaches the top hit, so bring your A-game.
Available: L 12pm-5pm
Bookings: (02) 9977 1266 (bookings not essential)
Website: manlywharfhotel.com.au
Address: Manly Wharf, East Esplanade, Manly
The Tudor Hotel, Redfern
Celebrate Father's Day at The Tudor Hotel by shouting him lunch, and they'll shout him a pint of Willie the Boatman Beer for the good will gesture. With a menu to satisfy any man of the house; choose from the pulled sriracha chicken burger or keep it old school with a traditional bangers and mash with gravy and mushy peas. Finish with a homely pear and raspberry crumble.
Available: L & D 11.30am-9pm
Bookings: (02) 9310 4314
Website: tudorhotel.com.au
Address: 90 Pitt St, Redfern
The Australian Heritage Hotel, The Rocks
Take dad to Sydney's original home of craft beer; The Australian Heritage Hotel. All dads will receive a beer on arrival with any lunch or dinner booking. The Aussie has more than 130 beers and all proudly Australian. Get stuck into the roo burger with a kangaroo patty, bacon, brie, lettuce and tomato chutney; chicken schnitzel parmi with house made tomato sauce, smoked ham and cheese, or the saltwater crocodile pizza with bush tomato, capsicum and lemon myrtle mayo. Finish dad's feast with the Aussie pavlova, cream, seasonal fruit and berry coulis.
Available: 11am-midnight
Bookings: (02) 9247 2229 or info@australianheritagehotel.com
Website: australianheritagehotel.com.au
Address: 100 Cumberland Street, The Rocks
Banksii, Barangaroo
Banksii Make Father's Day special with a harbour view and a $79pp set menu at Banksii. Start the banquet with bread and cultured butter before moving to the prosciutto, fennel salami, LP's mortadella, persimmon and walnut; grilled prawns, curry leaf butter, pickled turmeric. Indulge in heartier dishes including risotto of roast fennel, fresh herbs, pecorino and sticky beef short rib, smoked carrot, pickled onion and sides. Finish with the Banksii trifle with vermouth sponge, vanilla custard and rosella jelly. The a la carte menu is also available.
Price: $79pp
Available: 12pm-7pm
Bookings: banksii.sydney/reservations
Address: Shop 11, 33 Barangaroo Ave, Barangaroo
Bel & Brio, Barangaroo
Bel & Brio is offering dad some drink deals that will put hair on any mans chest! Try the boilermaker pairings for just $20 each featuring well-known brands such as Four Pines amber ale with Glenmorangie Lasanta or Asahi Black with Jameson stous caskmate. For those who want a cocktail the 'Spice n' Smoke' is a Father's Day special featuring blended whisky, peated whisky, honey, lemon juice, ginger, green apple juice and cinnamon for just $19.50.
Price: $20 for boilermaker pairings, $19.50 for Father's Day cocktail
Available: L 8am-3pm (Sunday)
Bookings: (02) 9299 9107
Website: belandbrio.com.au
Address: T3.01, 300 Barangaroo Ave, Barangaroo
Belles Hot Chicken, Barangaroo 
The hot chicken wizards are set to help you spoil dad this Father's Day with a special dad's brunch menu. Start off with the Father's Day waffles at $20. Choose from Belles spicy lamb cutlet or Belles dark meat spicy chicken. Make brunch boozy with the drink special; smoked maple buffalo old fashioned or try the Belles Boilermaker (a pot of beer and a whiskey shot). Bookings are essential.
Available: 11:30am-9:30pm
Bookings: belleshotchicken.com
Website: belleshotchicken.com
Address: 5/33 Barangaroo Avenue, Barangaroo
12-Micron, Barangaroo
Let dad indulge in a true fine dining experience at 12-Micron, Barangaroo. The Father's Day special is a 4-week dry aged grain fed 400-gram rib eye, served with thick cut chips and pepper berry jus and choice of side dish for $89.
Price: $89pp
Available: 12pm – 12am
Bookings: (02) 8322 2075 w
website: 12micron.com.au
Address: Tower 1, Level 2/100 Barangaroo Avenue, Barangaroo
Muum Maam, Barangaroo
Muum Maam offers authentic Thai cuisine to Sydneysiders with everything made from scratch. Take dad for the Father's Day special of green curry with Queensland prawns, asparagus, baby corn, apple eggplant, and Thai basil for just $34pp. Other options include the duck pancake rolls; dry green curry barramundi spring rolls; northern style crispy egg noodles with slow cooked beef curry, and pickled mustard and the crispy pork belly and green beans with wok tossed prik khing chilli paste.
Price: $34pp
Available: 11.30am-10.00pm
Bookings: muummaam.com.au/barangaroo/reservation.php
Website: muummaam.com.au/barangaroo/
Address: Shop 6/23 Barangaroo Ave, Barangaroo
NOLA Smokehouse and Bar, Barangaroo 
Feast your way through Father's Day with NOLA Smokehouse and Bar's Family Feast menu. For $85pp, you'll indulge in 13 different dishes including southern fried chicken; burrata with black truffle dressing, roast cheddar and hazelnuts; Rangers Valley Black Onyx brisket; slow roasted Junee lamb shoulder; BBQ pork ribs; mac 'n cheese with pretzels as well as three desserts – passionfruit S'mores, peanut butter and jelly time and Southern Comfort and pecan tart.
Price: $85pp
Available: bookings taken between 11.30am and 3.30pm (no dinner service)
Bookings:  nolasydney.com
Address: Level 1, Tower 1, 100 Barangaroo Avenue, Barangaroo
Phomo, Barangaroo
Celebrate Father's Day by the harbour with Phomo's three-course set menu for $59. Dishes include octopus tentacle in a squid ink spicy sauce; supreme crispy skin chicken leg; and truffled 'shaking wagyu beef' 350g MB+5 wagyu striploin. Complete the feast with a traditional Vietnamese tiramisu with homemade dulce de leche ice cream.
Available: 11.30am till late
Bookings: (02) 8097 3663
Website: phomo.com.au
Address: Wulugul Walk – Shop 9, 33 Barangaroo Ave, Barangaroo
Wild Sage, Barangaroo 
Wild Sage offers a brekkie and lunch special just for Dad! Breakfast for $35pp includes a seasonal fruit plate with Greek yoghurt and your choice of a breakfast dish from; chilli scramble with roasted broccolini, crispy kale, bacon and mixed grains on sourdough; or spiced smashed avocado with heirloom chunky tomatoes, pomegranate, radish, poached eggs, lemon ricotta and mixed grains on sourdough. Breakfast is never complete without that caffeine kick; each set menu includes two coffees per guest!
Had a sleep in? Rock up for the Father's Day lunch set menu for $55, with a selection of shared plates including house made beetroot dip with dukkah oil and flat bread; chicken drums filled with paella, saffron brown rice, green peas, spiced apricot puree, romesco sauce and crispy chickpeas; and chilli confit pork belly with picked daikon, carrot and ginger chilli soy sauce. Hearty mains include the lamb salad with kale, grilled haloumi, tahini dressing, lentils, pomegranate, preserved lemon, dukkah and crispy curry leaves, or the eggplant schnitzel with sweet corn, black beans, jalapeno, preserved lemon, red onion, gruyere cheese, kaffir lime aioli and dukkah. The a la carte menu is also available on the day.
Available: 8.30am-3pm
Bookings: (02) 9299 9087
Website: wildsage.com.au/barangaroo/
Address: Exchange Place, 3 Sussex Street, Barangaroo
Zushi, Barangaroo 
Keep Father's Day fresh with Zushi's five-course set menu. Start with the ocean trout carpaccio thinly sliced with beetroot, cherry, umeshu plum wine vinaigrette before jumping into the chef's signature roll; Wagyu kushiyaki with shiitake mushrooms & nashi pear app soy; zucchini flower tempura with dashi sauce; and BBQ pork ribs, teriyaki glaze, roasted kipfler potatoes, macadamia, truffle and steamed rice.
Available: 11.30am -9.00pm
Bookings: (02) 8072 7383 or zushi.com.au/bookings/
Website: zushi.com.au/
Address: Shop 10/33 Barangaroo Ave, Barangaroo