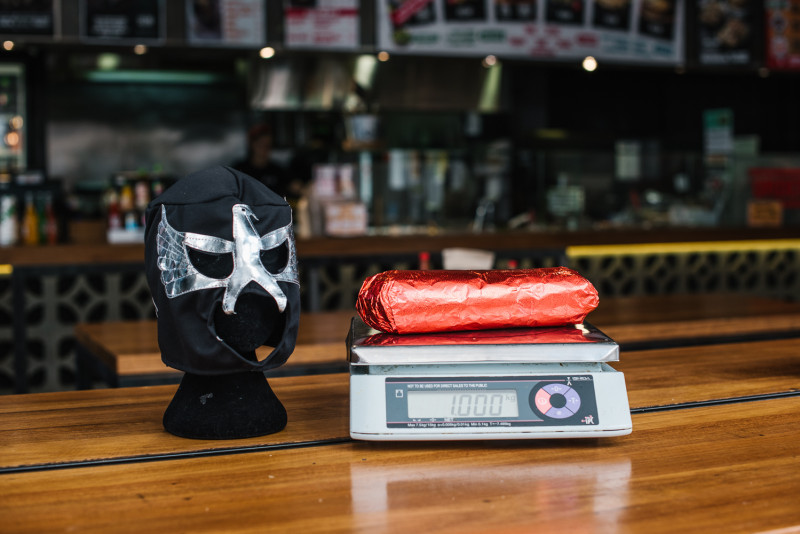 The 2016 Mad Mex Big Burrito Challenge is on again and we're calling on all brave amigos to def'eat a one kilo burrito in one sitting. Not only will you walk away a loco legend, you'll also score an authentic Mexican wrestling mask.
In-store from Monday 2 May, all Australians are invited to conquer the big burrito. Simply head into any Mad Mex store across the nation, take down your one kilo burrito then show one of the luchadores your receipt and foil when you have polished it off. Made with the same fresh ingredients as a regular burrito, the big burrito is double the size and double the fun!
Only those challengers brave enough to "Unleash the Beast" and def'eat the entire one kilo burrito will be rewarded with an authentic wrestling mask, custom made for Mad Mex in Mexico. Released in stages across the five-week campaign, there will be four different animal themed masks to collect. Kicking off is El Aguila (the Eagle) with the remaining masks kept a surprise until their release date. Champions can share their victory and enter Big Burrito Hall of Fame on social media using #bigburritofame while those left without a mask can capture their defeat using #bigburritofail.
Think you can't conquer the one kilo Big Burrito? Think again. The Big Burrito Challenge was created in honour of Cinco de Mayo; the Mexican holiday that commemorates the 1862 battle on the hills of Puebla, where the Mexican army took on an unexpected French assault. Outnumbered two-fold, the steadfast Mexicans fought to reclaim their turf and despite the odds not being in their favour, they came out on top! Mad Mex challenges amigos everywhere to take on their own Goliath: The Big Burrito!
Mad Mex creates fresh Baja-Mexican food using authentic Mexican recipes and ingredients, with a Californian influence. Using only the highest quality ingredients, each Mad Mex store prepares delicious guacamole, made from fresh avocados, and the slow-cooked and freshly grilled meats daily. The Mad Mex menu is customisable, allowing you to tailor your meal to your personal tastes and dietary requirements.
Top tips for tackling the one kilo burrito:
Mental preparation is key, listen to motivational music like 'Eye of the Tiger' by Survivor
In preparation, keep liquid intake to a minimum
Nominate a mate to take the challenge with you via madmex.com.au/bigburrito or Mad Mex Facebook
Seasoned challengers know not to unwrap the whole burrito – the foil keeps it rolled tight!
Keep momentum with steady bite-to-chew ratio
Mad Mex 1KG Burrito Challenge
May 2 – June 5, 2016
Mad Mex Stores Nationwide