On Tuesday 7 November, Tonic PR hosted 21 VIP media, influencers and celebrities at the glamorous Cup Day Festival at Barangaroo. Emirates Melbourne Cup's first official live site in Sydney transformed Barangaroo into Sydney's ultimate celebration. The atmosphere along Barangaroo's waterfront was electric, brimming with pop-up eateries and bars, flowing G.H.Mumm, and live entertainment which kept the city in racing mode all evening. Scott Tweedie, Christian Wilkins, Matt de Groot, Lincoln Younes, Prinnie Stevens and Jayde Heiser were in attendance along with media including Delicious, Eat Drink Play, Stellar, Daily Telegraph Sydney Confidential and Boss Hunting.
Singer and Bodyguard star Prinnie Stevens arrived looking svelte and classic in an LBD wearing an expensive piece of headwear, designed by celebrity Sydney Milliner Neil Grigg. It was adorned with black diamonds and 18 Tahitian pearls by Jewelers Fairfax & Roberts, valued at a cool $10k+. TV entertainment offspring and model Christian Wilkins looked fabulous in a chic military-inspired race outfit having a wonderful time in the marquee. He got to practice his best sabrage skills on a bottle of French champagne and caught up with gorgeous Sydney model and influencer Jayde Heiser. TV hosts Scott Tweedie and James Tobin shared a laugh and betting tips throughout the day, trying for a trifecta win. Scott Tweedie and girlfriend model Georgia Berg were the couple of the day seen side-by-side enjoying the sunshine and water views on the deck.
NZ DJ's Sweet Mix Kids and Sydney based DJ Mia Paris played a rocking set throughout the afternoon and well into the evening for a champagne-hydrated crowd who couldn't seem to get enough of their tunes. Revelers outside the VIP marquee carved up the dancefloor well past event time with the odd guest trying their luck at talking their way into the VIP marquee.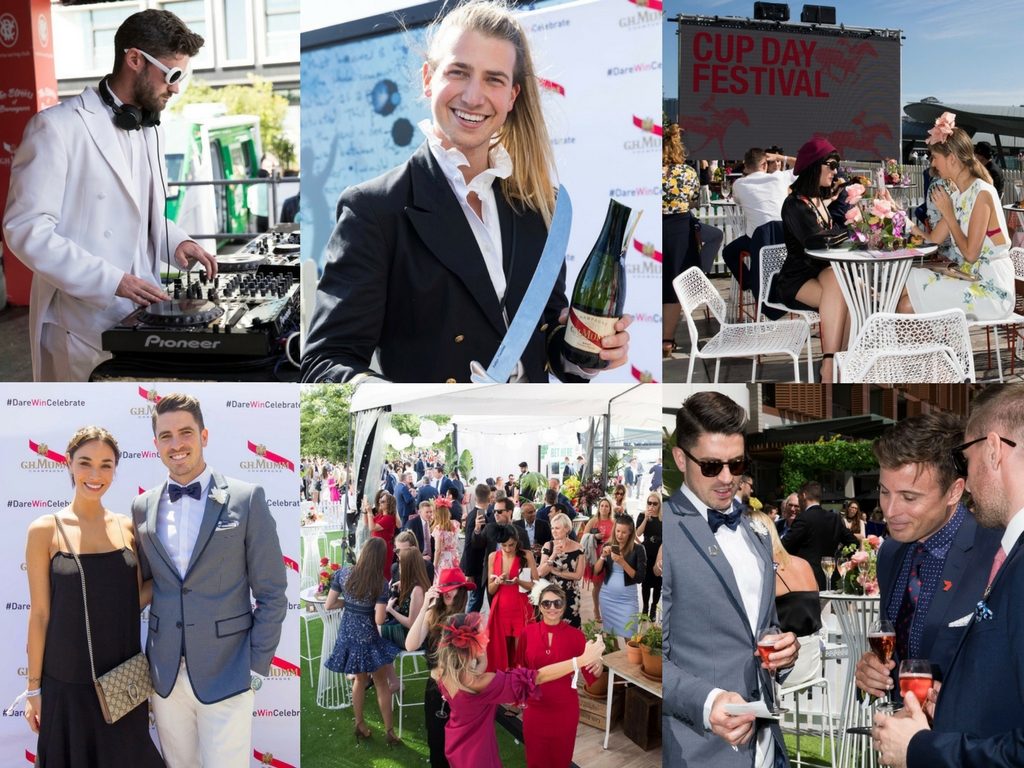 What: Cup Day Festival at Barangaroo – Mumm VIP Marquee
When: Tuesday 7 November, 12.30pm-late
Where: Wulugul Walk, The Streets of Barangaroo