Gyūsha – 牛舎 ("Giew-sha") is Chippendale's newest Japanese yakiniku restaurant and retail meat shop, opening on 19 September 2019. 
A paddock to plate concept, Gyūsha brings high quality wagyu beef directly from the local family farm for customers to choose and grill themselves at their BBQ table or to take home to cook. In addition to the family produced wagyu beef, there will also be a selection of wagyu beef from other Australian producers to showcase the differences in the meat's marbling, texture and flavour, which comes from the differences in terroir, feeding program and feed ingredients. For the customers that want to try wagyu beef direct from Japan, it will also be available at Gyūsha.
While the fun is in grilling the individual cuts yourself, there's also a menu of Japanese curries, don, shabu shabu, sandos, sushi, and sashimi made to order by the kitchen, headed up by chef Kazuyuki Matsumoto, fondly nicknamed Kazu (ex-Aria).
Husband and wife owners, Jon and Angie Choi, want to encourage connection with meat provenance through customers selecting a cut and then grilling themselves at the table. Inspired by the whole animal approach and the family wagyu farm located an hour northeast from Dubbo in central west New South Wales. Gyūsha hopes to broaden customer choice selection beyond prime cuts.
All the familiar prime cuts are available alongside some 'discovery' secondary cuts for those keen to try something new. Each comes with a choice of dipping sauces: ponzu, black sesame, white sesame, and a ketchup-based sauce. There's also staff on hand to divulge the best combinations, take orders for kitchen-prepared sides and of course, drinks. Although heavily meat-focussed there's also seafood and vegetable options.
As explained by Jon Choi, "The fat content of wagyu beef can be quite high, reaching up to 80% for the higher marble score cuts and it is not meant to be eaten as a thick steak. To make the most of wagyu beef's high-marbling profile, we serve our wagyu beef thinly sliced, either as yakiniku or shabu shabu, so that the fat is cooked into the meat, coating the beef in fat to create that juicy, melt in your mouth tenderness. We're passionate about people making the most of the different types of meat on offer, particularly the different wagyu beef cuts available."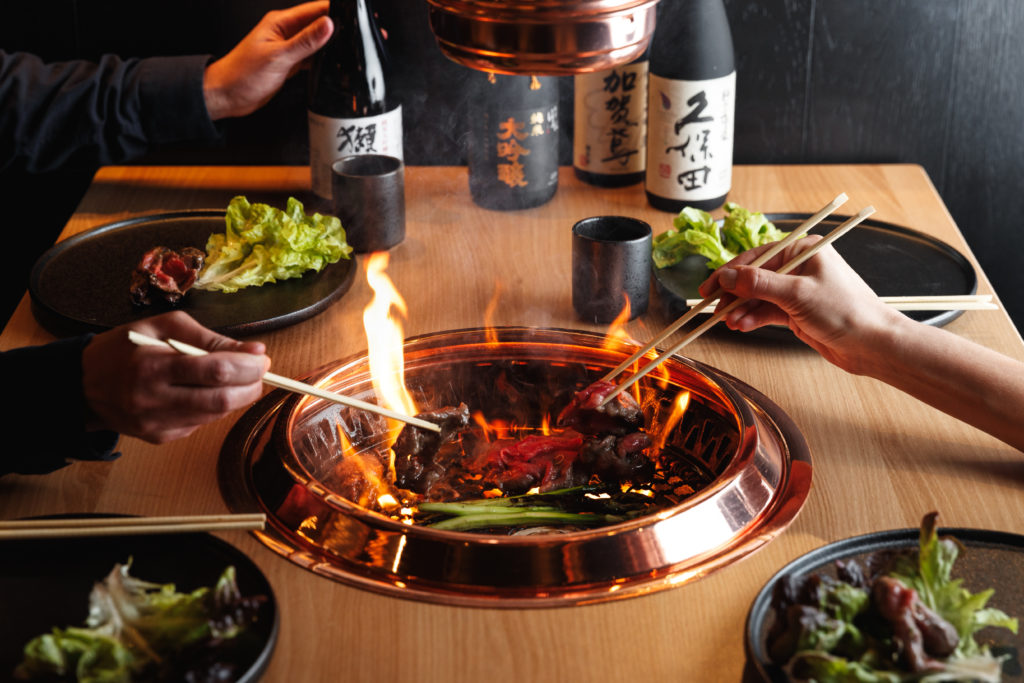 Alongside the menu is a curated drinks list featuring a comprehensive list of unique sakes, cocktails, shōchū, Japanese whiskies and beers. Wines stay closer to home with an Australian selection.
Gyūsha translates to "cow shed/the barn door" and so the space is a small homage to the family farm near Dubbo. There's subtle barn-style décor including heavy wooden sliding doors, ceiling beams and green tiling throughout the space with seating for 76 customers, which includes a private dining room with capacity for up to 20 customers. The private dining room also has a karaoke system installed for those patrons wanting to book up the room for their next function/venue.
Gyusha
7/6 Central Park Ave, Chippendale
Opening hours L D Mon-Sun
www.gyusha.com.au | @gyusha_yakiniku | @gyushayakiniku