By Steph Bercich
Our summer might be over but Europe's is only a few months away! Start planning a visit to crystal clear waters, laid-back coastal towns, colourful homes and authentic Italian food. Here's my favourite things to do in this insanely gorgeous part of the world – Cinque Terre.
1. Take a walk from Monterosso al Mare to Vernazza – Avoid the crowds and start early – around 6.30am. This walk will take you through vineyards until you get to the colourful town of Vernazza. The view is well worth the steep staircases (and you'll be burning off a few calories from the pasta and pizza you ate the night before) #winning.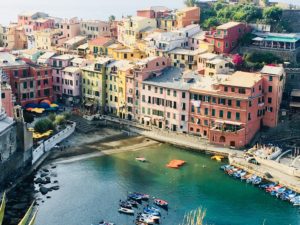 2. Get the token Cinque Terre shot in Riomaggiore – Yes, we've all seen it – the famous Cinque Terre shot. Head down to the water's edge and wait in line to take a shot on the rocks with the colourful buildings in the background. Do it for the Insta.
3. Take a boat trip to Portofino – Hop on the ferry and take a trip to the little Italian fishing village of Portofino. Pastel-coloured houses, high-end boutiques and seafood restaurants fringe the coastal town.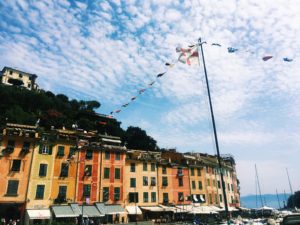 4. Have a sunset dinner at Trattoria dal Billy, Manarola – Walk up the cobble stoned streets of Manarola to the most delicious seafood restaurant in Cinque Terre, Trattoria dal Billy. Ordering the squid ink pasta is a must!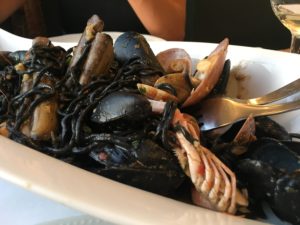 5. Hire a sun bed in Monterrosso al Mare – Take the day off activities and set yourself up in the sun in Monterrosso al Mare. Order a cheeky Aperol Spritz and tan the day away #enoughsaid.