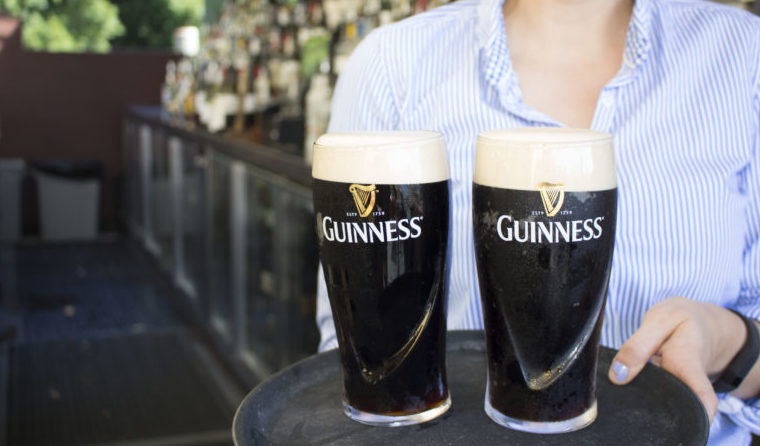 Top spots to grab a Guinness this St. Patrick's Day
The Buena Hotel, Mosman
The Buena Hotel is getting into the spirit of St. Patrick's Day with several Irish inspired specials. Think $10 Guinness' and $14 Irish espresso martinis, drool over an Angus beef and Guinness pie with colcannon and baby carrots ($26) or sink your teeth into slow roasted lamb with onion puree, mint sauce and all the trimmings ($28). Mosman's favourite pub offers something for everyone, doors open from 11am.
When: Sunday 17 March
Time: 11.00am – 10.00pm
Address: 76 Middle Head Road, Mosman
Website: https://www.thebuena.com.au/
The Royal Leichhardt, Leichhardt
The team at The Royal Leichhardt are channelling their inner leprechaun with themed offers including Irish coffee, served with a dash of Irish whiskey and cream on top; Guinness pints on tap for $11; and of course, a beef and Guinness skillet pie for $22. These specials are available all day throughout the venue.
When: Sunday 17 March
Time: 10.00am – Midnight
Address: 156 Norton St, Leichhardt
Website: https://theroyalleichhardt.com.au/
The Australian Heritage Hotel, The Rocks
The Aussie goes Irish, with food and beverage specials, Irish folk music and a competition for everyone. Feast on an Irish Coddle, a dish with layers of sliced sausages, rashers of bacon and chunky potatoes then wash it down with a pint of Guinness. Want to win a carton of beer? Simply post a picture on Instagram with your best Guinness moustache with the tags; @theaustralianhotel and #theaustralianhotel to go into the draw to win.
When: Sunday 17 March
Time: 11.00am – Midnight
Address: 100 Cumberland Street, The Rocks
Website: https://australianheritagehotel.com/
The Glenmore Hotel, The Rocks
Everyone's favourite rooftop is celebrating the luck of the Irish with pints of Guinness for $10 all day. Gather a squad and head to The Rocks for a Sunday sesh with one of the best views in Sydney. Tuck in to some food with tempura prawn tacos; a chilli cheese dog with cheese kransky, chilli con carne, cheddar cheese and jalapenos; chicken parmi with smoked ham, chunky tomato, melted cheese, chips and coleslaw or even a cheeky poke bowl with salmon, brown rice, edamame and more.
When: Sunday 17 March
Time: 11.00am – Midnight
Address: 96 Cumberland Street, The Rocks
Website: https://theglenmore.com.au/
The Palms at Toormina Hotel, Toormina
Head out to Toormina Hotel for a Paddy Day like no other. Book a table at The Palms alfresco area and dress in your Irish best, think gúnas; leprechauns; rainbows with pots of gold; four leaf clovers or simply your best green kits. There are prizes for best dressed so suit up. Feast on a selection of food specials including a Guinness pie and an Irish stew, best washed down with a pint (or two) of Guinness on tap.
When: Sunday 17 March
Time: 10.00am – 10.00pm
Address: Lot 1 Minorca Pl, Toormina
Website: https://toorminahotel.com.au/
Seabreeze Beach Hotel, South West Rocks
Celebrate St. Patricks Day at Seabreeze Beach Hotel with good vibes by the water. Book a table with your mates and enjoy a Guinness Pie or an all-day Irish breakfast. Want some more? The full summer menu is available including pulled chicken slides with chipotle mayo; meat lovers pizza; chicken schnitzel with chips and salad or the Seabreeze beef burger with bacon. Complete the Sunday sesh with some calm blues with solo artist Darren Jack from 3pm.
When: Sunday 17 March
Time: 10.00am – 10.00pm
Address: Cnr Livingstone St & Prince of Wales Ave, South West Rocks
Website: https://seabreezebeachhotel.com.au/
Slane Irish Whiskey
Slane Distillery has a deep connection to St. Patrick's Day and to celebrate, there's a number of Slane Irish Whiskey specials, folk music and Irish dancers at a selection of venues throughout Sydney. Think, PJ O'Brien's; Mercantile Hotel; Doss House; All Hands Brew House; Marble Bar; Bella Vista Hotel; Adams Tavern; and Bulletin Place. Eat, drink and be merry by heading in to one of the venues below for a Slane special offer this St Patrick's Day.
The story of Hill of Slane and St. Patrick
Five minutes from Slane Distillery, the Hill of Slane is traditionally regarded as the location where St. Patrick defied the pagan king of Tara by lighting the first Paschal fire in 433 AD. Ireland was a country of warring tribes, based on the Celtic social pattern of hierarchy and status. Religious leaders called Druids provided guidance to the kings and performed important rituals. Into this pagan world came St Patrick, sent if not by God then by the nearest thing on earth: the Pope in Rome.
At the spring equinox, the ruling High King always lit a fire on the Hill of Tara, the religious-political centre of Ireland and the flame would spread around Ireland. In 433 CE the command went out that no one was to light a hilltop fire before the High King Laoghaire lit his. St Patrick climbed to the top of the Hill of Slane and stole the show, lighting his Paschal fire before the High King. The enraged king knew the fire was a direct challenge to his authority.
Legend says that the King Laoghaire's irate Druids demanded the fire of Christianity be extinguished that very night or else it would burn forever. They challenged St Patrick to magical battle but could not defeat him. As a result, the king permitted his followers to become converts. At least one did: Erc. St Patrick rewarded St Erc by naming him bishop of Slane, and on the now-Christian Hill of Slane he established a school. A local church holds an annual ceremony on the hill with a small fire to commemorate the event.
PJ Obrien's
Offer: Irish breakfast, Irish dancers and folk music
Address: 57 King St, Sydney
Bookings: http://www.pjobriens.com.au/sydney/latest/stpatricks-day-2019/
Doss House
Offer: Slane cocktail specials
Address: 77/79 George St, The Rocks
Bookings: https://thedosshouse.com.au/
All Hands Brewing House
Offer: Slane boiler maker and Slane mixer specials
Address: 22 The Promenade, Sydney
Bookings: https://www.allhandsbrewinghouse.com.au/
Marble Bar
Offer: Slane is the spirit of the month with both Slane cocktail and Slane mixer specials
Address: Level B1/488 George St, Sydney
Bookings: https://www.marblebarsydney.com.au/
Bella Vista Hotel / Hillside Hotel
Offer: Slane and ginger and Slane espresso martinis
Address: 13 – 15 Lexington Drive, Bella Vista / 273 Old Northern Road, Castle Hill
Bookings: https://momentohospitality.com.au/bella-vista-hotel/ | https://momentohospitality.com.au/hillside-hotel/
Adam's Tavern
Offer: Slane and dry special
Address: 61 Richmond Rd, Blacktown
Bookings: http://adamstavern.com.au/
Bulletin Place
Offer: Slane cocktail specials
Address: Level 1, 10-14 Bulletin Place, Sydney
Bookings: https://bulletinplace.com/