by Ismat Awan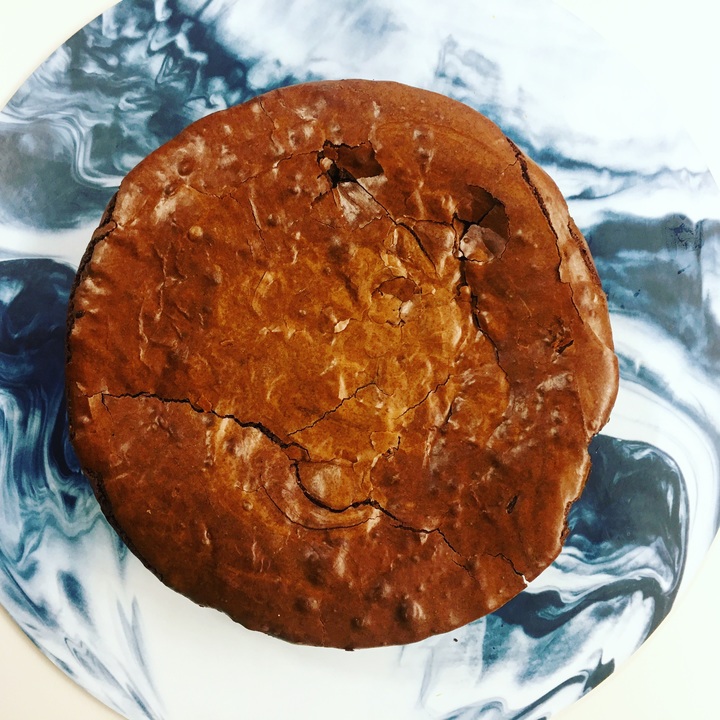 Ingredients:
240g of quality chocolate (we prefer a mix of Lindt's dark chocolate with sea salt and 70% dark chocolate)
100g salted butter (salt + chocolate = perfection)
3 eggs
1 tsp vanilla extract (the good stuff)
135g sugar
100g flour
 Method:
Pre-heat oven to 160°C convection heat.
Melt the butter and chocolate au bain marie – (fancy French term for water bath). Alternatively, pop it in the microwave for 30 second increments until the mixture has melted evenly. Set aside.
Whisk eggs, vanilla and sugar until it thickens into glorious pale-yellow ribbons (otherwise known as ribbon stage). Draw a figure 8 in the bowl and if the 8 stays, you've reached the right thickness.
Sift the flour into your pillowy-egg mix and fold gently.
Slowly add your melted chocolate and buttery goodness to the egg mix. Combine with care – retaining the airiness of the eggs.
Try not to press your face against the oven while it bakes for 35 mins (give or take a few minutes depending on your desired fudginess).
Remove from oven and allow to cool (if you can bare it).
Serve with a scoop of quality ice cream or a dollop of cream. You can add berries to the side to, but let's be honest, we're in it for the brownie.
Variations:
This recipe is a wonderful canvas for alterations: for a punchy brownie with some heat, add a pinch of chilli, or mix in some fragrant earl grey for a floral tone. Try it with white chocolate and raspberry, or salted caramel…the options are endless. Enjoy sans apprehension.
Adapted from Isadora Popovic's 'Popina' recipe book.